Our goal is to provide Mindful/Quality Dance instruction for the purpose to encourage the love of dance, connect breathe, creativity and the elements of Body, Action, Time, Space, and Energy in dance. We believe dance is an Art form and is for everyone not just for individuals on a pre-professional/competitive tract but for all and has many beneficial links to brain development, character development and happiness.
Mindful Dance
Connecting breathe, creativity and the elements of Body, Action, Time, Space and Energy to movement and different dance mediums.
Instructors
All Instructors have degrees in dance and have trained with Miss Dina on Mindful Dance instruction and lesson planning.
All instructors have fingerprints, background checks and all the necessary approval to work with children.



DINA MUIA-PASAKALUK
Owner and instructor Dina Muia-Pasakaluk has her BA in Early Childhood Education and Fine Arts/Dance and holds a PreK-3rd grade teaching certificate in Connecticut and Florida. Miss Dina also has her Masters degree in education with a concentration in special education and has worked with many children over her  20 years of experience.
While in college Miss Dina instructed dance for New Steps Dance Center in East Hartford CT, and after collage at Winniger's Gymnastics and Dance in Manchester CT.,. While teaching Pre-Kindergarten for East Windsor public schools Miss Dina also instructed dance for Birth to School after care program in East Windsor CT, and was Artistic Director/instructor for the East Windsor Parks and Recreation Dance Program till May 2006.
Since moving to Florida in 2006, Miss Dina has opened Just Dance Inc. taught dance in many Childcare Centers, Park and Recreation programs and at events such as the Children's Festival at Midtown at the Gardens and The Children's Festival at Roger Dean Stadium.
Through the Palm Beach county school district Miss Dina had the wonderful opportunity to get trained in the High Scope Music and Dance program in Michigan in 2007 and 2008.
Miss Dina's choreography has also been performed by students at many local events. Miss Dina believes everyone can dance and enjoys sharing her love for Dance/movement with others, especially children.  Miss Dina has just been certified through Kidding Around Yoga (KAY) to teach children's yoga which ads to her ability to teach breathe and mindfulness in dance.



LISA COUSINEAU
Lisa was born in Ocala, Florida. She began her ballet training at Dance Divine School of Ballet, where she was also a member of their pre-professional company, Light of Joy. Lisa received her degree at Palm Beach Atlantic University in the fall of 2009; graduating with a B.A. in Dance and Communications. During her time at PBA she was a member of their performing group, Dance Ensemble.
She was cast as soloist in Les Slyphide as well as many roles in original ballet and modern works. Upon graduation, she danced with Explore Dance Theater, a contemporary ballet company in West Palm Beach. She danced Vladimir Issaev's production of Petrouchka and Yanis Pikieris' Danzon No. 2 with Art's Ballet Theater of Miami during their 2010-2011 season. She has performed most recently as professional guest artist for Palm Beach Ballet Center, Dance Divine and Grace School of Dance. She has been teaching dance for eight years now.



SHELLY ACEVEDO-BOWLUS
Miss Shelly grew up in Miami, FL where she watched and danced with her three older siblings at the age of three. She is trained in all techniques and styles including Ballet, Tap, Jazz, Modern, Hip Hop, and Tumbling. After receiving numerous awards for dance and cheerleading she attended the University of South Florida and received her Bachelor of Arts in Modern Dance. While there, she received many Dance scholarships as well as the Victoria Catherine Selden Endowed Scholarship.
She has studied and performed with prominent choreographers such as Ann Reinking, Wade Robson, John Parks, Erin Cardinal, Joe Melchiona, Doug Caldwell, Joe Tremaine, Travis Wall and Lynne Wimmer, to name a few. She began teaching for Broadway Dancesations, with Miss Debbie Shakespeare, in 1991 and was the Assistant Director, Competition Team Coordinator and Summer Camp Director for over 10 years. She has also taught in Clearwater, FL, Lexington, KY, and Miami, FL. Upon Miss Debbie's retirement, she accepted the position as Director for Broadway Dancesations and was in that role for five years.
In the last year she has moved to south Florida and has taught for Just Dance Inc. adults, teens and Acro Dance Class. Miss Shelly has a passion for dance and wants to share her joy and love with all ages, levels, and techniques. She is versatile and has taught for high school dance teams, pre schools, college students and community events.  In addition to teaching classes and running her last studio, the Competition Team kept her very busy traveling to various competitions and performances throughout Florida. Her award winning choreography has added to her many achievements.



MISS SABRINA
Originally from a small town in Canada, Rimouski, she began her early training in classical ballet, jazz, contemporary and hip hop. Very versatile, Sabrina got recruited by Steve Bolton international renowned choreographer to be a part of the 8 count dance company. Since, she has had the honor to perform on many stages in Montreal but also everywhere across the globe in places such as Egypt, Chicago, New York, Atlantic City, Rhode Island, Los Angeles, San Diego, Toronto and Ottawa.
She has been part of productions and associations such as Group Bazz, Manina, BluePrint inc, and recently Kanam. She also has had a few experiences on the screen performing in Jacynthe's music video, Mister Valaire's, and dancing on televised events such as Just for laugh, Defi des champions and Zéro a mille. As a teacher and choreographer Sabrina inspires her students by her very multifaceted background and shares her love and passion all over the country representing Montreal and other Canadian studios. She is currently dancing in musical reviews, corporate events, music videos, and other productions sharing her talents in many artistic means.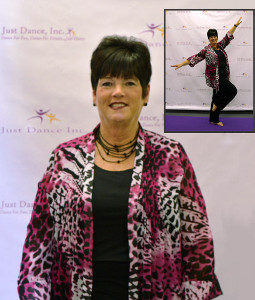 MISS KIM
Kim was the owner/director of a Maryland Dance Studio with an enrollment of over 400 students for 20 years. She moved to the Memphis, Tennessee area where she taught all forms of dance to ages 2 and up. Many of her students have performed at the Macy's Day Parade, Disney World, and Carnival Cruises. Ms. German has judged for the I Love Dance Competition and is a member of the Southern Association of Dance Masters and Chicago National Association of Dance Masters. She recently relocated to the Palm Beach area and is pleased to be on the teaching staff of Just Dance.